Not to be confused with

Saustralia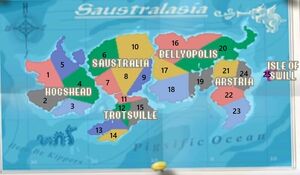 Saustralasia is a big archipelago in the Pigsific Ocean, and the main place, where Hogs of War is located. It consists of six main islands: Hogshead, Saustralia, Trotsville, Bellyopolis, Arstria and the Isle of Swill. Its' islands are shaped like a pig.
Name
Name "Saustralasia" was inspired by "Australasia".